UBC Asian Library provides support for scholars, students and community members who conduct research on, or are learning about Asia and Asian heritage. Asian Library maintains Asian-language holdings (totaling 700,000 volumes as of 2019) in ten languages including Chinese, Japanese, Korean, Hindi, Urdu, Punjabi, Sanskrit, Nepali, Tibetan and Persian. In addition, the library is actively engaged in providing access for Chinese and Japanese rare materials, and also works with library and external partners on the digitization of rare items.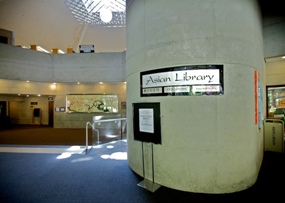 In addition to its outstanding collections, our library is actively involved in the research mandate of the university by co-hosting and otherwise supporting academic conferences and events. We also support student learning through classroom visits and instruction for Chinese, Japanese, Korean and Indic-language programs. Finally, community engagement is one of our overarching pillars, and we invite community members to join us for exhibits and programming to build community connections with our students and researchers.
Originally established as the Asian Studies Division of the old Main Library (now the Irving K. Barber Learning Centre), the Asian Library  has been operating at its current 21,500 square feet, three-storey premises in the Asian Centre as of 1981, when the Centre opened.